Krispy Kreme's Custom Blend Coffee
Milk Chocolate, toasted almond, malt and dried fruits.
Versatile and balanced, this blend is an easy to enjoy coffee with a smooth body. Hints of toasted almond, malt and dried fruit flavours accompany the predominant flavour of milk chocolate. It is the perfect flavour profile to compliment the Krispy Kreme classic Original Glazed Doughnut.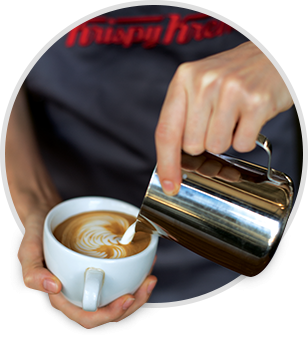 In store experience
Whether you're enjoying a barista crafted coffee while relaxing with your family, taking a quiet moment to read a book or catching up on emails with our free wifi, we have created the perfect environment to relax and enjoy.
Coffees we serve
From a traditional cappuccino to a soy double shot chai latte with extra milk and a shot of caramel, we always aim to please.
Every coffee has an espresso at it's base and we offer a full range of milks and milk substitutes to suit every taste. With our first class La Marzocco Lineas coffee machines in all our stores we guarantee the finest barista crafted coffee, everytime.
Join us in store and we'll make the perfect coffee just for you!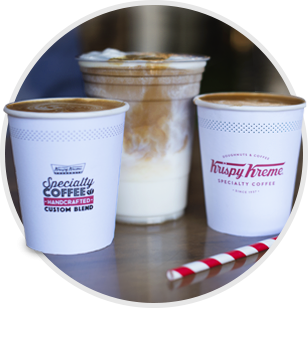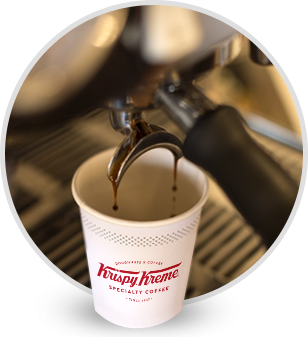 Making our coffee
We love our coffee and every step of the way our goal is to make you the best coffee.
We use the finest beans, sourced from Australia's leading coffee bean roaster, the highest quality La Marzocco Lineas coffee machines to ensure the perfect pour and everyday we focus on training our baristas to ensure we serve the perfect coffee.
Every time you have a Krispy Kreme Coffee, you know it's been created with passion and served with joy!
Taste Guarantee
Coffee and a doughnut, a match made in heaven!
We're proud of our coffee and take it very seriously. To ensure you have the perfect coffee with the world's best doughnut we have a taste guarantee.
If you're unhappy with your coffee, we will replace it for free.
Conditions apply – see in store for details